When it comes to marketing, dentists face many different challenges than other businesses. While most industries like clothing, tourism and food need to convince their target audience to invest in their services, dental patients already know that their oral health matters. The main issues that dentists face are reminding their patients to schedule appointments, maintain their oral health habits, and overcome their fear of visiting. Most dental professionals also express a need to attract new patients to their clinic.

Rather than sending clients flyers in the mail, the best route to market a dental practice and encourage clients to use its services is through social media.
Why Social Media Marketing Is Important For Your Practice
Something most dental clinics don't consider is how social media marketing can benefit their business. Print ads and word-of-mouth recommendations have long been the main form of marketing for dental practices. While these still are effective marketing strategies, a social media marketing campaign is important for practice growth.


Social media is one of the best ways to build relationships with pre-existing clients, prospective patients and other dentists. Social media platforms like Instagram, Facebook and Twitter offer frequent and instant communication with a practice's target audience. The ability to instantly reach clients allows both a new dentist and an established dental practice to develop and strengthen their connection with their clients and market their services.


With that being said, a professional social media marketing plan will help dentists get the results they want. Social media is are much like other parts of running a business; it involves planning, strategy and management to be truly successful. Dentists will need to create a social media presence with frequent posts on their Facebook page and Instagram account. Posts will also need to be engaging to help keep an audience engaged.


Creating a social media campaign that forms a connection, builds trust, and is engaging can be a difficult task for many, but it can be easily done if you implement the ideas below.


Share Photos & Video Content To Excite & Engage
On image-based platforms like Instagram, users have increasingly short attention spans. A user only needs to look at a picture for a few seconds before determining whether they should read the textual component of the post or interact with it. This means that dental clinics will need to make their content engaging and exciting to capture the attention of their audience and ensure they don't keep scrolling.

Visual content like photos is the best way to capture the attention of users quickly and easily. Sharing photos of the before and after of dental cleanings can show and remind patients how important professional cleanings are to their dental hygiene. This will help drive traffic to your clinic's website and encourage people to book an appointment for dental services. Funny or relevant posts about visiting the dentist can also attract patients because they find the content amusing or relatable.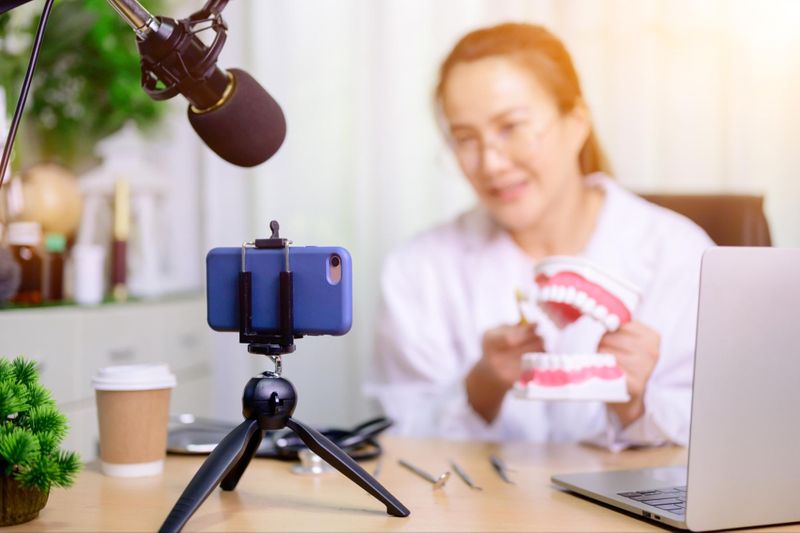 Dental practices, like any other business, can benefit from creating video content for their social media pages. Short and exciting or intriguing videos are proven to capture the attention of users more than any other type of content on Instagram and Facebook. They also receive higher levels of engagement than text or photo content on platforms like Twitter and LinkedIn. This is because the audio and visual aspects of the post content engage multiple senses – sight and hearing – rather than only one.


Video is also the preferred method of learning about a dental clinic's products or services. 72% of customers prefer to watch a video about a business on YouTube, Facebook or Instagram because it helps them make decisions and learn more about the company itself. After watching a video, 64% of clients reported that they are more likely to spend their money on that business's products and services. This makes video an integral part of any marketing campaign.


Dentists should consider incorporating videos into their social media strategy. Whether this is done by recording videos on Instagram stories or recording a scripted and edited video, this type of content is sure to boost engagement.


Build Trust In Your Dental Practice Online
Dental social media campaigns need to be built around building trust with patients. Patients entrust their dentists to maintain their oral health and provide them with the services they need. As such, it is important to establish your reputation as a point person for all things oral health.

One of the best ways to establish trust and build a reputation for your dental clinic is to share your credentials. Showcasing or mentioning a team member or the whole team's license, certification, areas of expertise, experiences, awards, and memberships in dentistry will exemplify your knowledge and expertise to current and potential patients. As a result, it will increase patients' trust in you and your whole team.


Increase Awareness About A Topic

Social media marketing for dentists does not have to be entirely about promoting your products and services to patients and new customers. Dentists are trusted and knowledgeable professionals that their clients turn to when it comes to their oral health. This means that it is part of a dentist's job to educate and provide guidance to clients on any issues regarding their teeth, gums and mouth. A great way to do this is to incorporate educational information into your practice's social media content.

Sharing educational information about topics like gingivitis or dental implants in the form of a blog post, infographic or video will allow you to simultaneously educate people and market your dental clinic as a knowledgeable and professional business. This could attract more patients and improve your practice's reputation. This content may also have a larger organic reach as users beyond your client base search for information on these topics.

If you have valuable information to share but don't know where to start, use one of the industry's best-kept secrets – dental marketing agencies! An agency's social media strategists, copywriters and graphic designers can create content for various social channels. They will ensure that the incredibly important medical information both makes sense to the public and reaches a wider audience.


Build Reviews Into Your Social Strategy
The dental industry has an abundance of products and treatment options that can better one's oral health and improve your smile. This is wonderful because there are so many options available, but patients may be unaware of their options or overwhelmed by the sheer number of them. This can spur people to search online for recommendations and other expert advice on which dental products or treatments to choose.

Dentists can respond to the need for professional dental advice outside of the office in their marketing strategy. Rather than requiring people to come into the office to learn more about the products or treatments available to them, speak out on social media sites.

Creating content like online reviews, an informational blog post, and more can be a great addition to dental practices' marketing strategy without sounding like an obvious advertisement. For example, those who offer cosmetic dentistry services like Invisalign® could do a live video on Facebook or Instagram about what Invisalign® is and discuss both its benefits and downfalls. Patients who need their teeth straightened and are curious about this method of treatment will watch and interact. Some clients may even contact the clinic with a request to speak to a dentist about whether Invisalign®'s clear aligners are right for them.
Connect With Patients On a Personal Level
Most dental professionals believe that their social media strategy needs only to highlight their services and products, but this isn't true. When patients visit a dental office, the majority of their time is spent speaking and connecting with the staff that work there. Dental social media marketing that does not feature any dentists, dental hygienists or other staff may come across as very impersonal to one's followers. This may just reinforce the belief that dental offices are very impersonal and clinical – the exact opposite of trust and the relationship you are trying to build with your community.

Dentists should ensure that their social media ads include photographs, videos and mentions of a dental practice's staff members. Including pictures of one's dental team will be a personal touch that your clients will remember. Not only will they connect more with your practice, but they will feel as if your services are personable. This is especially true if you post funny or heartwarming pictures of the staff on your dental team.

By featuring staff on social media, followers will perceive your dental practice more like a community rather than a company. This will then help build and strengthen the relationship between your dental practice and your target audience.


Excite Your Audience With Promotions
While social media is all about connecting with an audience, user engagement is an important factor. Engagement such as likes, shares and comments are crucial to ensuring that users enjoy posts and that the posts perform well online, but receiving them is easier said than done. Rather than exclusively posting about dental health, mix up your content strategy and include a promotion.

Dentists and dental clinics that have held giveaways, contests and other interactive content have seen great success. When users see a giveaway or contest on their news feed, they are much more likely to pause and interact. Creating a contest with the requirements to like, comment, and share posts is a foolproof way to engage people and boost your social media engagement.

A dentist or other dental team members should share information on products and provide professional advice online through Instagram posts, live videos and other content types.
Market Your Dental Practice Using Social Media
There are many social media strategies that dentists can put in place to market their practice, but creating engaging posts is the first and most important part of social media marketing for dentists. Creating and sharing content that is exciting, interesting and personal will help engage patients and attract new ones.

Rather than attempting to persuade people to make an appointment at your dental practice, remind them of your presence and expertise, as well as the importance of their oral health. Clients like to be reminded and implicitly persuaded to


Get Help With Marketing Your Dental Practice
In recent years, the dental industry has had to adapt its marketing strategies greatly. Dentists are just now realizing that there are many benefits to marketing their services online and using social media platforms like Instagram, Facebook and Twitter to do so. Not only do these platforms offer a way for dentists to market their services, but it also allows them to instantly connect to and build trust with their patients.

While social media is an effective way to market your dental office, it can be time-consuming to create and manage social media ad campaigns while also running a business. Coordinating Instagram accounts and Facebook pages while trying to run a dental clinic can be overwhelming for any dentist. Professional dental marketing agencies provide services like branding, SEO, graphic design, web design and more to help relieve dentists of their responsibilities and better their marketing.